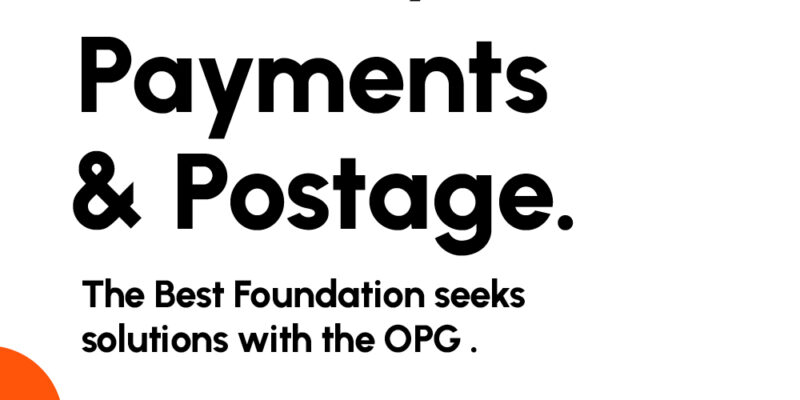 In March 2022, The Best Foundation prepared and sent an open letter signed by nearly fifty estate planning professionals to the OPG setting out the difficulties many estate planning professionals continued to experience when trying to register LPAs on behalf of clients.
In response to the open letter, the Public Guardian and Deputy Director of Strategy & Central Services helpfully offered to meet with us. They spoke openly, and below we summarise the discussions had.
The Background
As practitioners will be aware, before the Covid-19 pandemic began, it was possible to register an LPA in around eight weeks. However, as restrictions started to take effect, one floor of the offices of the Public Guardian had to be split across six to accommodate staff who had to work from the office due to the paper-based nature of the process.
Pre-pandemic, the OPG received 3,600 LPAs a day. As of June 2022, they are being sent 4,200 LPAs a day and are therefore experiencing increased demand for services, combined with a challenging labour market that makes recruitment difficult, as many practitioners themselves are also experiencing. For these reasons, it is recognised by many that the industry must adopt paperless, systems-based procedures wherever feasible.
Digitisation & Modernisation
On the theme of paperless processes, the OPG would encourage practitioners to check the online tracker tool – but were unaware that as many are using alternative case management and drafting software, LPAs are often not prepared using the online facility by professionals. The Government response to the Modernising Lasting Powers of Attorney consultation confirms that they will further explore integrating a digital LPA channel with document and case management systems. There was discussion around whether a digital solution such as a portal could be implemented quickly. The OPG confirmed they would investigate the possibilities and report back. Those present were familiar with the Land Registry's payment and portal system and wondered if something similar could be adopted by the OPG, as practitioners have already adapted to this.
Whilst a portal or API into existing platforms would be preferred, in the short term all professionals expressed the view that they would prefer emailed correspondence where possible to obtain updates. The OPG said they would consider whether this could be embedded into their processes.
Service Updates
Attendees highlighted that the OPG's service updates are being posted to an existing Covid-19 Service Update that they had initially published in March 2020. As a result, the current service update isn't immediately evident. The OPG has agreed to look at this and explore the possibility of providing a more apparent general service update.
When asked how long it may take to clear the backlog, the OPG did not want to 'overpromise and underdeliver' but estimated that it could take the rest of this year and potentially roll over into next year.
Payments
Payments formed the basis of another significant discussion. The OPG confirmed that their preferred payment method was the online system. However, practitioners again highlighted that many clients find the multiple text messages they receive in this regard confusing and don't understand why they must make multiple payments. Furthermore, as the client gets the texts as opposed to the practitioner, it is difficult for the person instructed to help the client, leading to further frustration. There was also a concern that if the client is not informed at the outset that they are due to get a text regarding payment details, they are likely to think this is suspicious and fail to act. The OPG confirmed they would do more to look at payment options and consider how they could raise clients' awareness of what is required. In addition, the text messages sent out do not confirm which reference relates to which LPA, causing further confusion for practitioners and clients alike.
Postage delays
There was discussion around the time taken for letters to be sent and received, which further slows up the registration process. Currently, LPAs are returned (and correspondence sent) using 2nd class post. The OPG confirmed that increasing the cost of registration to offer a faster service was not a viable option. The practitioners present stated clients would pay more for expedited service, but the OPG thought this would be difficult to manage.
Best Foundation Advisory Board member Charlotte Ponder asked whether it was possible to send letters outlining issues with LPAs by first-class post to allow professionals more time to resolve issues. Ideally, such correspondence would be emailed (or made available via a portal arrangement, as discussed earlier) to enable the practitioner to act as soon as possible to resolve any issues. The OPG confirmed that they would reflect on this and let us know in due course whether they were able to make any changes to their current process.
Errors
Hardeep Gill of Legacy Wills & Estate Planning asked if the standards and policies applied by the OPG staff in checking LPAs on receipt could be made available to practitioners. This would allow professionals to ensure that they were eliminating all possible mistakes before submitting the LPAs for registration and confirm this against the criteria applied by the OPG. Practitioners were concerned that the existing guidance was being applied inconsistently. The OPG confirmed they were in the process of updating their guidelines and would look at whether it was possible to make this available for practitioners to refer to.
Outcome
Both parties agreed it was necessary to hold a further meeting to discuss the issues raised. In the interim, the OPG is asking professionals to continue to use the online systems where possible and check documents before submitting them.
Those attending expressed a wish to revisit the issues, solidifying a mutual commitment between those in the industry and the OPG to continue working together to make positive change.
The BEST Foundation continues its work to raise awareness of the issues and will further push to improve the process for its members, professionals, and the public. To join us and be part of the revolution, click here (Link to membership page)